Dan Hays
Statement of Purpose for the Terra Summer Residency in Giverny 2010

The purpose of my stay at the Terra Foundation would be on several fronts: to engage with the research of other artists and scholars; to present my own work and ideas, in order to gain critical feedback and suggestions; and to continue with my own practice, both in terms of painting and the gathering of digital photographic source material.
I am currently in the second year of a full-time PhD at Kingston University, which will culminate with an exhibition and submission of a doctoral thesis in 2011. However, I am applying for the residency as an artist rather than as a scholar due to the practice-led nature of the PhD and having twenty years experience as a professional artist, exhibiting widely.
The chance of an extended stay at the Terra Foundation next to Claude Monet's garden at Giverny presents a serendipitous opportunity, given the influence of both French and American art and visual culture within my research. Associations between Impressionism and digital image compression are being explored through a painting practice based on low-resolution Internet-sourced images from the website of another Dan Hays in Colorado. (See the accompanying artist's statement).
Parallel researches into French Impressionism and American Luminism (historically concurrent) seem appropriate to the Terra foundation's setting at Giverny, especially given the particular relationship of Monet's work with my own. Indeed, the painting precursor for the Colorado Impressions project was a blockbuster exhibition at the Royal Academy in London in 1999 called Monet in the 20th Century. I didn't go, fearing a vast sea of heads blocking a direct communion with the great water-lily paintings. Instead, I sent off for a video tour of Monet's garden at Giverny, produced in association with the exhibition. Working from numerous slide photographs of the corrupted footage on the TV screen as the camera panned across the lily pond, I produced a series of paintings, which present very little visual information connecting the viewer to the original location.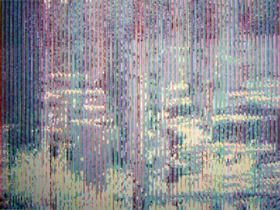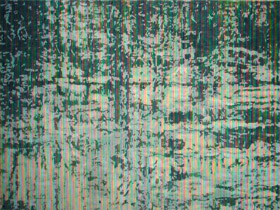 Reflection, Transmission & Deterioration (1999), each oil on canvas, 45 x 60 cm.
This failure is the subject: how successive technological filters, from video, photography and painting remove us from nature, yet offer a sense of longing for something lost, projecting into the atomised remains of pictorial illusion. Monet's work in particular has opened up water as an elemental link between the veiled, elusive and abstracting distortions of image compression (and the Internet), and the frozen fluidities of oil paint.
An interest in Luminism came about through another exhibition in 2002: The American Sublime at Tate Britain. Finding myself an unwitting painter of the American landscape – admittedly, a poor, dislocated descendent of the Hudson River School painters – came as a wonderful surprise, as their work is poorly represented in British collections and art history education. Regarding the Internet as a virtual, parallel wilderness is a strong theme through my research, and informed by writers such as Barbara Novak, I've endeavoured to learn more about the technical, philosophical and art historical influences and developments of painters confronted with a vast landscape largely devoid of human influence. The Luminists, especially Sanford Gifford, present a technical contrast to the Impressionists in their eschewal of the visible brush-stroke, yet their interest in portraying extreme atmospherics hints at digital imaging technologies concerned with high-definition landscape simulation. Their regard for quieter subject matter plays interestingly with the particular focus on landscape web-cam imagery in my own work.
Within the residency a re-engagement with Monet's lily pond as a subject would be of particular interest. It could be that I continue where I left off, using found video and photographic material, perversely relishing the fact that the real lily pond is just next door (echoing the fact that I've never been to Colorado); or otherwise developing a novel way of collecting digital photographic material from the primary source amidst hoards of visitors.
There is another project that I'd like to resume, which came about on a trip through France last winter, culminating with a visit to Barbizon in the Fontainebleau Forest, south of Paris. The Barbizon school painters of the mid-nineteenth century - Millet, Corot, Rousseau, etc. – were realist painters working against the Romantic movement of the time and had a strong influence on the Impressionists. There's an early Monet painting titled The Bodmer Oak, which was a touchstone for my series of forest paintings in the late 1990s. There's a picturesque section of forest famous for the oaks and rocks painted over the years by a role-call of 19th century painters, including Cézanne. With a mental image of Monet's painting I spent a morning in search of the famous oak. I later discovered that the tree was named after the Swiss artist Karl Bodmer, who studied it repeatedly. Bodmer is best known for his watercolour studies of the American West in the 1830s, especially detailed portraits of native people. He settled at Barbizon on his return to Europe. I would like to continue the search for a probably long dead tree (and an intriguing history), possibly finding contemporary stand-ins or rotting stumps.
The residency at Giverny would offer a return to the creative roots of my research.

Claude Monet, The Bodmer Oak, Fontainebleau Forest, 1865.
Photograph of another oak near Barbizon today.