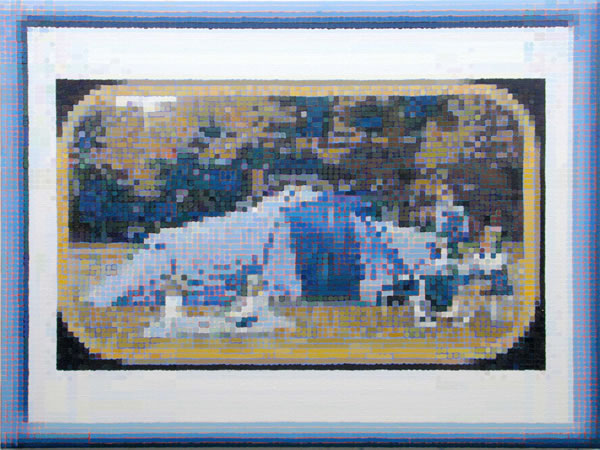 Vango Colorado 1200a
2005, oil on canvas, 76 x 101cm
Notes:
Vango Colorado 1200 is the name of a particular brand and model of tent. I found this curiously framed, low resolution image on a camping equipment website. The virtual sky-blue frame seemed to suggest the colouration of Van Gogh - pronounced van-go by many Americans.
Further notes:
When I enroled as a wide-eyed, enthusiastic young artist to study BA Fine Art at Goldsmiths College in 1987, there was a special presentation of student societies set up in the main hall. There was the chess club, Christian Union, all the usual stuff, which didn't particularly grab my attention. Then I spotted an intriguing prospect, namely the Van Go Society, displaying, as far as I can remember, a picture of a minibus heading towards a picture of Amsterdam (home to the Van Gogh Museum, and other things that could possibly interest students). I duly signed up, along with a few other callow youths, and paid my £20, or whatever it was to join (was it that much?) to fellow fine art student Chad McCail, president of the society.
The van and the trip never materialised. Amsterdam remained a distant dream. Our faith in human nature smashed to smithereens. And through this bitter lesson, we learnt that it's art's job to try and reassemble these fragments, to make the world a better place.