Recent articles in the digital wilderness
Across the Water, /Seconds
The Reassurance of Atmospherics, Journal of the New Media Caucus
Painting in the Light of Digital Reproduction, Culture Machine

Recent published articles
Roderick Harris: From the Corner of the Living Room by Dan Hays.
Faraway So Close: Marc Hulson discusses Dan Hays' Work.
Both Turps Banana issue 5.

Impressions of Colorado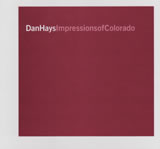 Exhibition Catalogue designed by Joe Ewart.
A Journey Into the Digital Sublime, an essay by Richard Dyer.
Colorado at a Distance, an interview with Ben Tufnell.

Screen as Landscape
Dan Hays
Fine Art PhD Thesis
Centre for Useless Splendour
Contemporary Art Research Centre
Kingston University
2008-2012