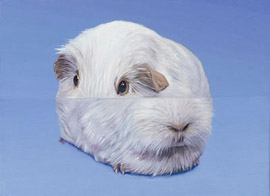 Guinea Pig
2000, oil on canvas, 16 x 22cm


danhays.org is a developing project, launched in December 2008 whilst commencing a PhD in Fine Art at the Centre for Useless Splendour at Kingston University.
It works as a showcase of various things I have made. But importantly, its function is for my own purposes as much as the visitor. Being a thematic and chronological record, it serves to remind me of past works and possible unfinished business. To look forward requires occasional looking back.


The Centre for Useless Splendour:
The Research Centre is a set of relationships, contingencies and dialogues between concurrent creative and intellectual enquiries.

In the foyer we are concerned with propositions for agency and the generation of expanded and hybrid modes of socially sited creative production.

The Machine Room is concerned with how technologies, methods and processes
might be understood and reinvented.

In the Hall of Records we think about knowledge, and how it is configured through organisations and institutions.

The Lumber Room is for experience, matter, noise. It is for knowledge developed through embodied temporal encounter.


danhays.org is a field research station which links the Machine and Lumber Rooms (where actual work is made) to the social spaces of the Foyer and Hall of Records (where some reflection and verbal reasoning are required).
Pages and links will gradually be expanded in a process of organisation and, increasingly, the opposite of this. Paths will lead out into the digital wilderness and return to this virtual hut. Through the expansion of this domain deeper and more speculative themes will be introduced, aiming to add colour to partial descriptions, intentionally muddying the water.
Ultimately, origins and interpretations are never certain, as works develop cumulatively out of intuition and accident. What remains beyond the reach of words and digital representations is golden.
Presented here are works produced since leaving college in 1990. The survey becomes more comprehensive from the late 1990s onwards, and intentionally includes some "odd" paintings and possible "duds." Indeed, in some way, doubt and the notion of the pictorial misfit has always been a guiding principle. Things that seemed a good idea at the time informed subsequent work, and can hopefully provide the viewer with a more rounded picture by encompassing technical limitations and conceptual cul-de-sacs.

Courier is a typewriter font, so in the digital context it offers a seductive fakery, a simulation of a time when mistakes could not be erased. And it is under a kind of pre-electronic spell that this website aims to operate (partly due to a rudimentary knowledge of web design).
New works will not be added to the site until they have been exhibited, or have languished unseen in the recesses of the studio for some considerable time.

The PhD was completed in August 2012.